Wednesday, February 22, 2012
4:04 PM |
Posted by fabricartist21
|
Edit Post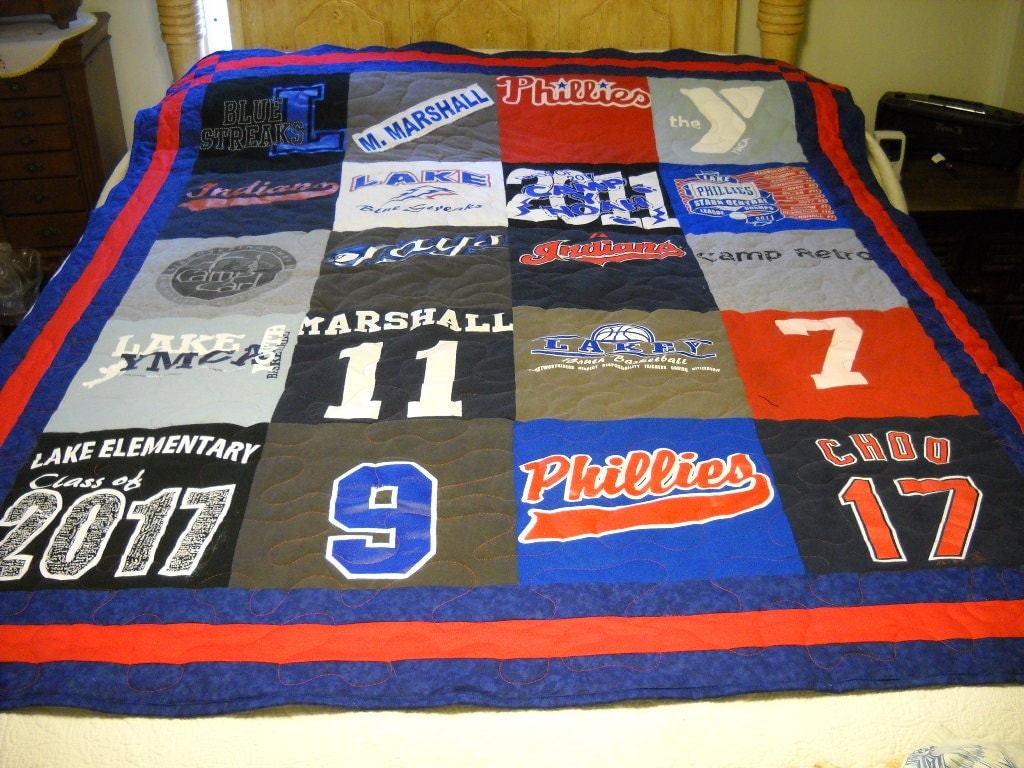 Mom we did it we got his quilt done for his 13th Birthday. I hope he liked it. I loved the red and blue, his school colors. He must be a big sized boy as these shirts were big. Quit an athlete! Thanks Lisa for letting me make this for your son.
Follow Me On Twitter

My Network Blogs

Pages
Blog Archive

About Me
fabricartist21

Mother, Grandmother, Great Grandmother Pet owner, Red Hatter, Friend.
View my complete profile

My Blog List


God.Love.Family.Friends.Pets.Fun.Creativity
When my sisters and I were very young all three of us loved to make things. I think that was the way kids entertained themselves in those days. Our mother sat us down with old clothes and needles and thread and we made our dolls clothes.
My creativity grew from there and I found myself in high school making all of my own clothes. I did get a lot of attention with my matching outfits including hats. Since I was shy maybe that was my way of creating my own world and at the same time getting attention.
I finally did get tired of making clothes and went into quilting. The first year I quilted I made every family member quilts, quilts and more quilts.
You can only make so many quilts and so many bags before you have no space left. What is a very nutty creative person going to do about this?? Well you are going to open an ETSY shop and sell some of this stuff, right?? http://fabricartist21.etsy.com/
My neighbor asked me to make her a T-Shirt Quilt and I have been doing that for over a year now. I take special orders through my Etsy shop. I have become very busy with this business and will continue to create t-shirt quilts as long as their are customers that want them.

Please continue to scroll down and click on "OLDER POSTS" for more quilts!!



Facebook Badge